This is Our Story!
MOTHER~DAUGHTER~SON                      (Car Service with a Cause)
MDS Enterprises Inc was created in 2008. We are a family oriented business providing marketing and advertising for a variety of clientele. We desired a more personalized face to face experience and consequently Mother~Daughter~Son Transportation ❤ was born. Our Hallmark is to introduce a whole new "flavor" to the hospitality industry. Through life's challenges we aspire to create something that will assist others on their journey, making a positive impact on those we serve. We Support "The Cause" and will continue to build this legacy for our Family and Friends. 🙏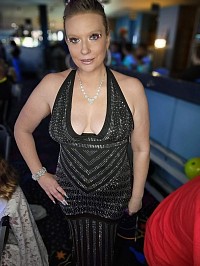 I am a 37 year young mom of 7 amazing children. I have followed my entrepreneurial path through sales, marketing, customer service, hospitality, helping others with kindness, courtesy and compassion. I worked as a courier for many years and have learned the value of treating people with respect and reverence. In 2010, my life journey traveled to a dark place when I was diagnosed with a rare form of cancer. My vision for the future was drastically altered and I channeled that despair into creating something life affirming, with my best friend, "my mom."  I embraced *FAITH* to persevere my dream of helping others and provide for my family. My vision is to leave *footprints* wherever I go.
CAR SERVICE WITH A "CAUSE" ✝️
We provide 24/7 Private Transportation Services for any occasion or event. We are not just a transportation service but a concierge-on-the-go. Our drivers provide upscale customer service on a different level and make sure to meet all accommodations
We are now FEATURED on over 100 Different Websites as well as ALL the Top Directories with a
⭐STELLAR REPUTATION⭐ -
1000+ Five Star Reviews -
(Please Do Your Research)
**We Always want what's BEST for you**